Cyclic Exercise
Cyclic exercise takes only about one hour of exercise per week. The exercises can be done at home, at work, or at a gym. The only special equipment one needs is a heart rate monitor to keep track of the intensity of the exercise.
The intensity of the exercise is graded to match a person's existing level of fitness.
This cyclic nature of the exercise generates a series of parabolic-like waves of cardio-acceleration (lasting one minute or less) followed by recovery to a steady state.
The cyclic exercise sessions are varied as to time of day for 21 days, followed by a seven-day period where no exercises are done, to allow for a recovery period.
The point of Cyclic Exercise in not to burn calories, or to improve cardiovascular capacity (which it does). The point of Cyclic Exercise is to exercise the autonomic nervous system to be more flexible and more balanced.
---
Cold Laser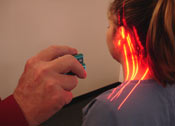 Dr. Bailey is one of just a few progressive doctors who are using Low Level Laser Therapy to treat various conditions.
Nothing on this site is intended to be used as a substitute for advice of a physician.  Do not modify your diet, exercises, or medications without first seeking the advice of a physician.  Information on this site is for information purposes only.  No claims have been approved by the FDA unless otherwise indicated.